SP INSTITUTE OF NEUROSCIENCES
As a super 3 specialty hospital dedicated to the diagnosis, treatment, surgery, and research linked to Neurology, SP Institute of Neurosciences stands out among the Neurological Institutes in South-West Maharashtra. Dr Shirish Padmakar Valsangkar founded the organisation in 1999. SP Institute of Neurosciences began small but has since grown to become a massive Neurocare Facility.
With the goal of delivering complete healthcare in Neurology and Neurosurgery under one roof, all current facilities and sophisticated medical equipment are available. The medical and paramedical professionals, as well as other healthcare professionals, who work at the institute are highly trained, active, and accomplished.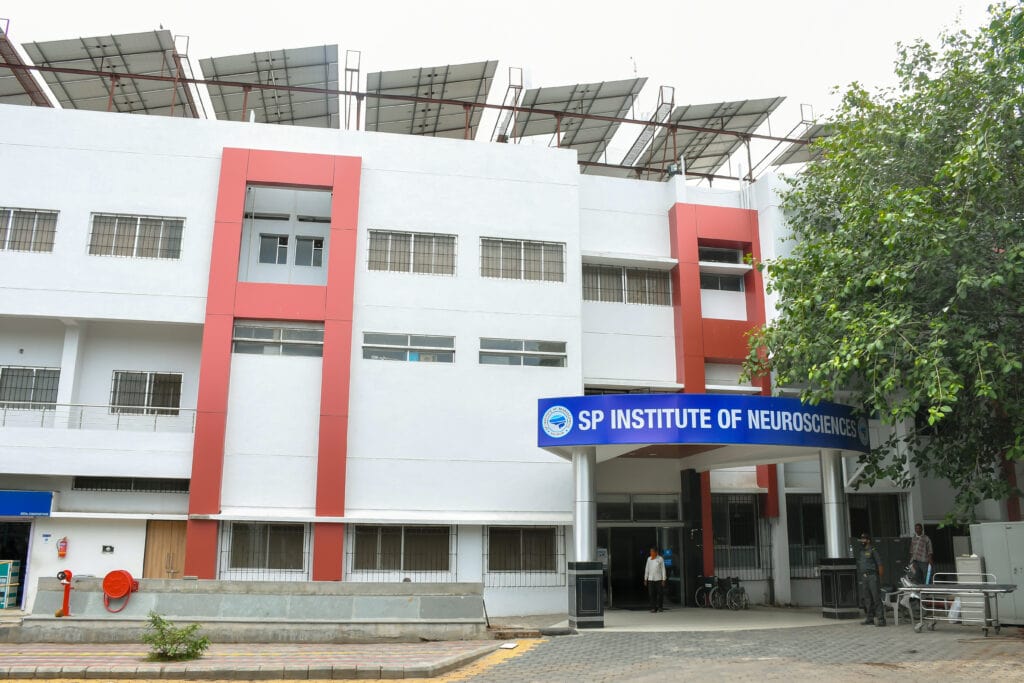 The hospital features a sophisticated emergency management system that can handle traffic collisions, neurological emergencies such as acute strokes, and industrial catastrophes.
Portable ventilators, defibrillators, suction devices, oxygen, and other emergency services are available 24 hours a day, seven days a week. The state-of-the-art 15-bed critical care unit and 15-bed Intensive Care Unit are equipped with ventilators for adults and children, defibrillators, pacemakers, central monitoring, oxygen and suction units, infusion pumps, bronchoscopy, and dialysis, as well as highly trained and skilled medical, nursing, and paramedical personnel.
A 24-hour diagnostic service is essential for providing high-quality healthcare. SP Institute of Neurosciences provides cutting-edge diagnostic services such as 3-T MRI, Spiral CT scan, and a well-equipped Philips FD 20 Cathlab for Interventional Procedures such as Stenting and Coiling. A 24-hour pharmacy, pathology services, and ambulance services are available at the hospital.
SP Institute's experienced and competent team of consultants, as well as skilled nurses, technicians, and administrators, provide a welcoming environment for medical professionals to give exceptional healthcare of worldwide standard, helped by state-of-the-art equipment.
Advanced microsurgical procedures are used at the SP Institute of Neurosciences to address severe brain and spine problems. The Operation Theatre is fully equipped with cutting-edge microscopes, a Neuro-navigation system, and advanced percutaneous methods. The Operation Theatre is connected to a 15-bed Neuro Intensive Care Unit. The Maharashtra State Government, as well as most major government undertakings and significant companies, have recognised SP Institute of Neurosciences for the treatment of their employees and families.